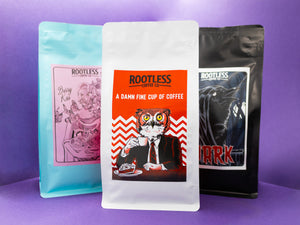 Choose 2 - 1lb bags and get 1 FREE!
A Damn Fine Cup of Coffee: Our staple roast is a blend of coffee from Brazil and Peru roasted at a light/medium profile, giving it a smooth chocolate and nutty taste.
No X in Espresso: Looking for a smooth dark chocolatey taste with hints of dried fruit and almond? This perfect Medium Roast Brazil delivers and fills the caffeinated voids in your life. 
Berry Kiss: This is the best single-origin Ethiopia we've had.The "Kiss" in the name is an understatement because Berry Kiss is a rush of sweet berry goodness with every sip. Roasted Light, It's not overpowering, it's not tart, it hits just right. 
Out of your Element: This Medium Roast Costa Rica Sweet and balanced with a creamy body, notes of milk chocolate and citrus.
decaf: Believe it or not, we have a VERY good decaf. It's sweet, smooth, and the perfect way to start your morning or taper off from your caffeine addiction.
Fast shipping and good taste
I've been buying from Rootless with some regularity now. Their service is great. The shipping is speedy. And most importantly, their medium roasts are delicious.