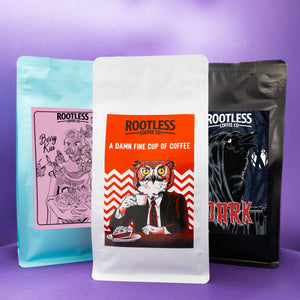 Choose 3 of your favorite 1 lb bags!
"Do you ever feel like a plastic bag, floating through the mail into your coffee pot? Well, baby that's how coffee works." I forgot the rest of the lyrics to make this joke but 3 BAG BUNDLES ARE HERE!
We have light, medium and dark roasts and regions from all over the world! From A Damn Fine Cup Of Coffee to Out Of Your Element, we want you to mix and match your favorites and save money in the process!
Rootless has become our go-to coffee. Great flavor and love the artwork on the packaging!
Great value and delicious selections!
Great Way To Sample New Coffees...and Become a Fan!
Upon my discovery of Rootless Coffee Co., my wife and I tried a few coffees and enjoyed the flavor. We opted to place a second order for a few new types, the three bag bundle saving a few dollars in the process. The three One Pound bags offer a great opportunity to have a few pots before deciding where a blend may fall on you list. This is the way to go rather than those tiny three cup baggies sold elsewhere. INDULGE in the goodness!
Smells and tastes wonderful
I've only tried the first bag of the 3 bag bundle and it is delicious. Will be ordering more for sure.